Ever since ancient times, mankind has been exposed to travel and tourism. What started off as a getaway for just the rich, became something much more common towards the middle ages, with travel writers and pilgrims coming into the fore. Eventually, in today's world, it has developed into being a whole new industry. A career in travel and tourism has become a much sought after line of work for people around the world.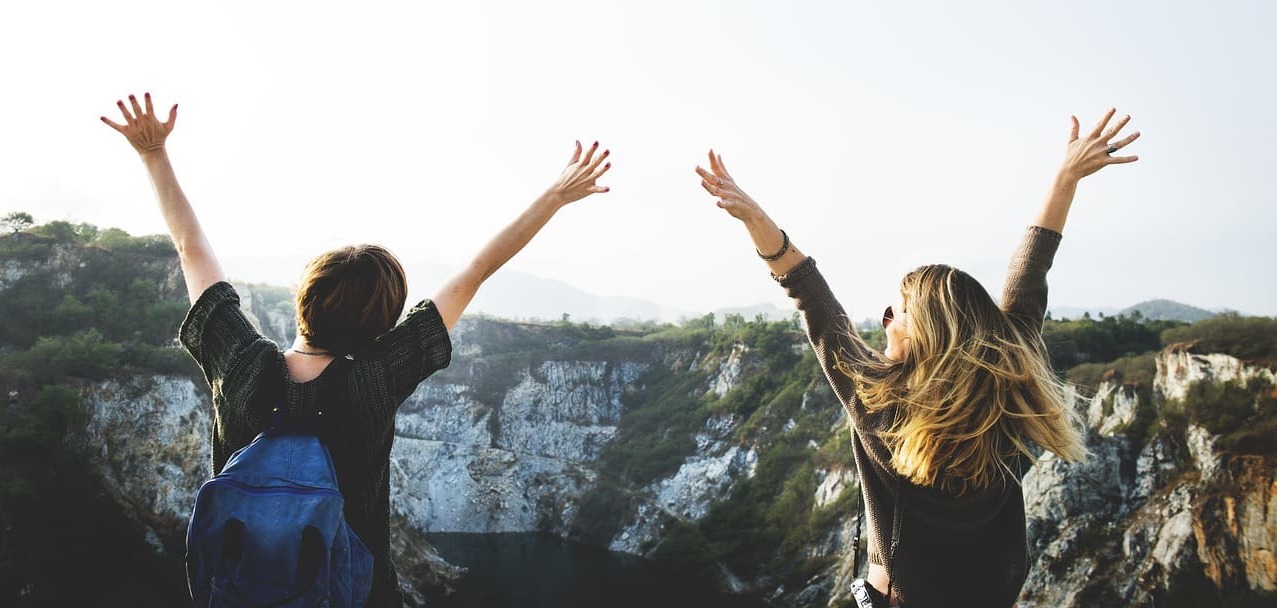 What is travel and tourism?
Tourism is when someone visits another place and returns back or moves on to another place. Travel, however, is a term that defines a movement from one place to another. Since travel and tourism go hand-in-hand, the term 'travel and tourism' is quite often used to refer to the industry. According to the United Nations, a tourist is defined as "someone travelling abroad for at least 24 hours, and a maximum of 12 months". With several countries and regions surviving on the sole revenue from tourists visiting them, the travel and tourism industry is quite the flourishing domain. Along with this, the advancements in technology and travel has made the world a much smaller place thereby making it easier for people to explore the world. For a large number of people, travelling is a way of life or even a hobby. People are willing to spend fortunes just to visit other places on tourism. As a result, the number of job opportunities in travel and tourism is stupendous. With the industry still in the developing phase, it sure does need plenty of well-trained professionals.
Why Travel and Tourism as a Career?
Gone are the days when people took up careers following the crowd. The current generation is known to follow their heart and passion. As they say, "Do what you love, and you will never work another day in your life". If travelling makes your heart skip a beat, a career in travel and tourism industry is what you deserve. One thing about a career in this is that you will be having fun and are likely to never get bored. Being one of the most developing industries in the world, every country or region has started numerous initiatives to promote tourism. With a wide range of paths to follow, you will always find something you like. You can take up a job in this industry by studying a course in the same. You can follow a career in travel tourism after 12th, or even take up a career in travel and tourism after graduation with several available courses.
Travel and Tourism scope
The travel and tourism scope is something that is ever-expanding. This billion dollar industry has its reach into almost every field. No matter which part of travel and tourism interests you, there is always a corresponding domain. Casual sightseeing, adventure travel, pilgrimage, medical travel, hospitality, telecommunications, eco-tourism, etc are just the tip of travel and tourism. The field goes much deeper than this with things such as doom tourism, dark tourism, and even the latest space tourism. With its effect on social, cultural, educational, and even the finance sector, you can find travel tourism in almost every corner.
Even in our own India, the potential in the domain of travel and tourism is far from being fulfilled. With over 8 lakh crores of revenue from tourism alone in 2015, the Indian government is solid about its interest in travel and tourism. Several government initiatives have been started in the form of Incredible India, IITTM, and several others. The jobs in this industry can be found in both the public and private sector. The public sector consists of opportunities in the Department of tourism at national as well as state level. The private sector deals with airlines, hotels, agencies, etc. No matter what field, unlike other jobs, a job in the travel and tourism industry requires skills that will eventually develop your creativity, imagination, orientation to a large extent. As per the World Travel and Tourism Council (WTTC), the contribution of tourism to the total economy of India, as well as the revenue from tourism are shown below -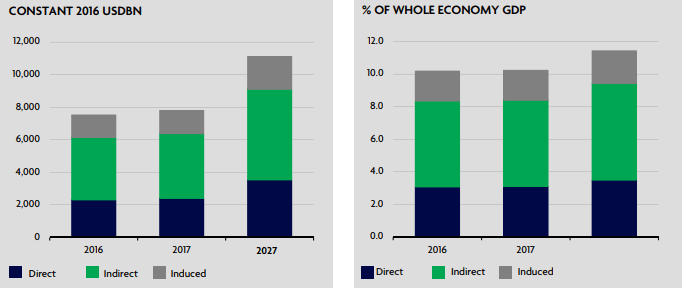 Travel and Tourism Career Opportunities
A good reason why you should take up a career in this field is the vast number of job opportunities. Career options in travel and tourism are plenty. Be it public or private sector, there is a serious need of trained and skilful professionals. The basic requirement is a friendly, outgoing person with interpersonal skills and verbal fluency. As long as you possess these, and have done a course in the field, you will easily find a suitable job. Some of the areas where you can expect to work include the following -
Travel agencies: These are organizations that facilitate in travel and tourism related to vacation or even business. Possible positions include Travel agent, travel consultants, travel insurance consultant, sales reservation agents, visa executives etc.
Tourism Department : A government organization focusing on travel planning, reservations. Sales and marketing to assist tourist. These include positions such as tour guides, public relations manager, etc. The public sector is present both at the state level and national level.
Hotels : Involves the day to day activities of a hotel with respect to food, accommodation and service. A course in hospitality or hotel management is the right path to this career. The jobs can include front office manager, chef, etc.
Road transport:Transport plays a vital role in the industry. Drivers, car rentals, etc have been a key part of this industry for years.
Aviation industry : The biggest field in the industry, this deals with travel by air. From ticketing staff to the ground staff, there are several opportunities in this domain. The other roles may consist of operation manager, ground staff officers and so on.
Tour operators: These are organizations that deal with tour planning and facilities related to that for the customers. These can include planning of stay, food, as well as leisure activities. The positions usually include itinerary planner, international travel consultant, travel product designer, tour manager, etc.
Entrepreneurship: Among the latest form travel and tourism management job opportunities is the entrepreneurship. These include new startups such as event management that require professionals with knowledge and understanding of the travel and tourism industry.
Freelance Writer or Travel Blogger: These are the self-employed domain where you can blog about your travel experiences, or write content related to these for an organization.
Banks: Banks require professional to assist customers in travel insurance, foreign exchange, and other financial functions.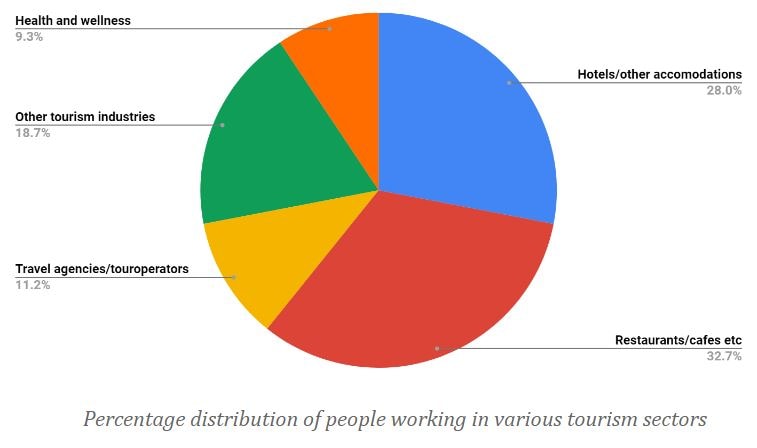 There is no lack of travel and tourism job opportunities in India and the world. However, it is one's dedication, hard work and passion that determines how successful he is in the field.This is one of the sectors where you can climb up the ladder in a flash.
Salary in Travel and Tourism Industry
The amount someone gets paid in this industry depends on the role and the field they work in. It also depends on the level of the course you have completed. Even though the travel and tourism career salary in India usually starts between 8000-10000 per month for people at the lower spectrum and can increase significantly with respect to the experience, position, and education. The travel and tourism salary in India per month for someone at a good position like a destination manager can go higher.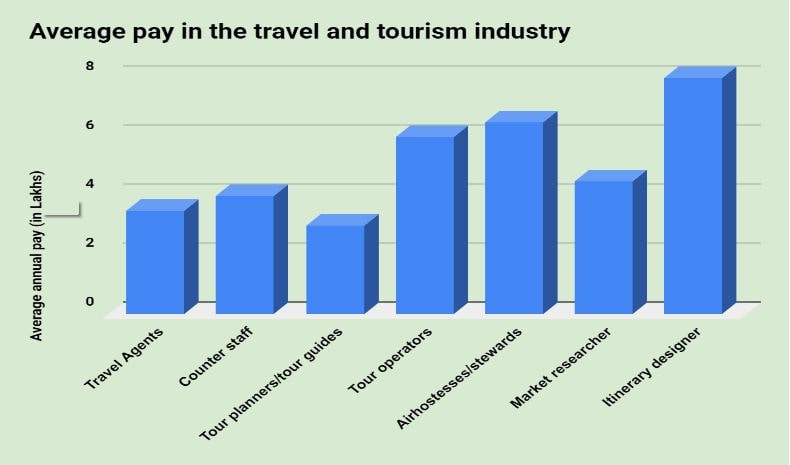 What is more attractive than the salary is the perks attached to it. Most positions will give you access to free travel, discounted rates for family members, commissions, bonuses, and much more. When coupled along with the pay, the jobs in this industry is quite attractive monetary wise too. These again vary depending on the different sectors such as aviation, hotels, etc.
It's not just in India, you can find a job in other countries too. There are countries that pay great salaries for the field. Depending on the country's investment in tourism, and the economy, you can expect to be paid well. On average, tour managers earn more than 5000 dollars per month.
Even though the money and the perks attached with it are quite tempting, something that's a more important factor is that a career in travel and tourism is an enjoyable and fulfilling job. The first and main step in pursuing a career in this domain is to enrol in a course related to your preference.
What are the Best Tourism Courses in India?
There are several courses in this field. With respect to the different sectors of travel and tourism, there are multiple fields in which people can get a diploma, certificate, graduate degree, or even a postgraduate degree. You will have to choose what is the best branch for your dream. These can include hotel management, travel and tourism management, airfare and ticketing, aviation, etc.
You can enrol for a travel and tourism course in India at any stage in your life after you complete high school. If you wish to start a career as soon as possible, you are eligible for a travel and tourism course after 10th. You can pursue your 11th and 12th in travel and tourism. You can also take up a course after 12th, or graduation if you feel like you need to take that path. There are numerous travel and tourism short courses as well as long courses. A short course makes you industry ready for a specific sector in a short time. However, a longer course like a full-time degree will take a longer duration to complete but will let you choose from a wider range of jobs.
Diploma in Travel and Tourism
A diploma in travel and tourism are short term courses that moulds you to start working in the industry right after your studies. The courses usually last around 9 months to a year and is perfect if you take it up right after you complete your 12th grade. Alternatively, you can even pursue this after graduation, or post-graduation. These short courses are usually in the following specialisations -
Travel formalities : This deals with the processes involved in travel such as procuring a visa, passports, foreign exchange, travel insurance, and several other travel documents.
Tour Packaging : This revolves around the tour packages and plans to deliver to the customers. People look for the best deals and packages when travelling. It is, therefore, necessary to ensure that you are able to provide the best services in this area.
Air Ticketing : Air travel is the fastest and most preferred mode of travel for tourists. It is important to learn the details of flight ticketing.
Hospitality management: Hotels and other accommodation facilities are an integral part of any travel. This module helps in being trained to assist customers during their stay.
Apart from these, there are several other diploma courses that can be found. It is up to the individual to determine what suits his best interests. These courses will ensure that you are ready to take on the travel and tourism industry.
Tourism Entrepreneurship
A tourism entrepreneur is someone who starts a project such as a new service or product that can be used to serve tourism-related purposes. Also known as a start-up, this can be done by an individual or a group of individuals. However, to do so, you will require the right training in the field of travel and tourism. As a result, people take upon a tourism entrepreneurship course so that they develop the right set of skills to implement their unique ideas.
The course is usually a short term course and often revolves around the aspects of operations, features as well as up to date information about the respective sectors. Along with these, they also contain classes on the necessary business-related knowledge one requires. Lasting around a duration of 3 months, these courses can ensure that you have the right skill set and knowledge to take up on their dream.
In today's competitive world, having a start-up can be life-changing. The world needs new ideas and innovators. Since entrepreneurship in travel and tourism contains risk involved, it is necessary to be educated in the fields relating to the service or business. A few examples of tourism and travel entrepreneurship are Oyo, AirBnB, Zoomcar, and Uber.
Best Tourism Institute in India
There are several tourism colleges in India that offer a plethora of courses. However, to choose the best tourism institute in India for you, you will have to look up at the courses they offer, the reputation, placement records, syllabus, etc. There are institutes that offer diploma, graduation, as well as post-graduation. Based on the sectors, and the degree, the following are the top institutes in India.
Diploma
School of Distance Education-Andhra University, Visakhapatnam
University of Mumbai, NIMS University, Mumbai
Indian Institute of Tourism and Travel Management
Garware Institute of Career Education and Development, Mumbai
Graduate degree
Indian Institute of Tourism and Travel Management
Academy of Business Management, Tourism and Research, Bangalore
Amity Institute of Travel and Tourism, Greater Noida
NSHM Knowledge Campus, Kolkata
Post Graduate degree
IAM Institute of Hotel Management
Institute for International Management & Technology, Gurgaon
International Institute of Business Management, New Delhi
Amity School of Hospitality, Greater Noida
Even though these are the top institutes for their respective degrees, you can choose the one that provides a course in your field of interest.
The world of travel and tourism is ripe for the taking. Pursuing a career in this field is a no-brainer as it is a prospective domain filled with opportunities, incentives as well as personal fulfilment. The first step you need to take is to join a course that suits you. After all, a career in something you love is what everyone seeks in life.
FAQ's about Career in Travel and Tourism
Which is better? A degree or diploma in travel and tourism?
There is nothing as the best course. Both courses have their merits and demerits. A diploma course is a short term course that provides you with the required skills to start a career as soon as possible. A degree, on the other hand, takes a longer period like 3 years to finish and covers the same subjects in detail. Diploma will just give you a head start and perhaps even grant you the opportunity to get trained on the job.
Is travel and tourism management good for girls?
Yes, it is a very good course for girls. Since the job requires a passion for it, and a keen enthusiasm, regardless of gender, it has quite a fascinating career path. Even though it may sometimes involve travelling, as the world is way more open and developed now, it is extremely safe for girls.
Is Travel and Tourism management promise a good career?
Yes, it is a great choice. Considering the scope of this in India as well as other countries, a career in travel and tourism can take you a long way. With almost every country investing large amounts to develop the tourism industry, there is no shortage of job vacancies. The industry requires a good number of well-trained individuals.
Do travel and tourism have a scope in India?
Yes, it does. With over 40 billion dollars coming as revenue from the tourism industry, India has started focusing on tourism. Travel and tourism in India is something that will keep on improving. The Indian government themselves have already started initiatives to promote tourism in India.
What are the steps to have a career in Travel and Tourism?
The first step in following a career path in travel and tourism is to choose a sector that interests you. This can be aviation, hotels, visa, etc. Once you do this, you will have to find a course that relates to your field and will allow launching your career. You should then join a reputed institute that provides this course.
What are some of the best short courses to get into the travel and tourism industry?
There are a number of short courses you can do that will get you into the travel and tourism industry. You can do a diploma course specialized in various fields such as aviation, hotel management, etc. You can also take up an IATA foundation course, Entrepreneurship course and several others. The main thing to keep in mind is that despite a good education, you have to be hardworking and have the willpower to make it to the industry.
What are some of the good courses in tourism management?
The domain of tourism management is a vast field with a large number of courses available. Some of these include luxury business management, event management, food science and safety, catering and hospitality, cruise management, etc. Whatever the field you are interested, there is almost always a course in that sector.
How long does it take to complete a travel and tourism course?
The duration of the course depends on the type of course you undertake. There are short term courses such as diplomas, certification courses, foundation courses, etc that are usually completed within a year. On the other hand, there are long term courses such as a graduate course or a postgraduate course that can even take up to 3 years to finish.
Can I choose travel and tourism after 12th?
Yes, you can follow a travel and tourism path after your 12th. In fact, due to the lack of opportunities in other fields, and a huge requirement of talented individuals in travel and tourism, it is suggested to take this up. There are several courses that let you pursue your preferred career path. You can do these as a diploma, or even a graduate degree course.
Which is better? hotel management or tourism management?
There is no specific response to this. It totally relies on your own inclination and passion. Hotel management deals with the functioning of a hotel. Tourism management deals with planning, tour packages, etc. Both these fields have their benefits and drawbacks. In light of this, you should choose what is best for you.
Which are the best countries to study tourism?
There are a number of countries that provide excellent travel and tourism courses. Even India is famous for its tourism institutes. With several great institutions providing courses across a wide range, one should seriously consider studying in India. Apart from this, countries such as France, Australia, New Zealand, the UK, etc are excellent for this.
How can I visit the world through travel and tourism management?
Through the travel and tourism industry, one has a ton of potential to visit the world. There are a few job profiles that will give you a chance to visit the world, for example, a tour manager, travel agent, etc. Taking up a course in this field, and performing well can significantly help to fulfil your fantasy of travelling.